The German Embassy Sudan & Vétérinaires Sans Frontières Germany
When animals mean life.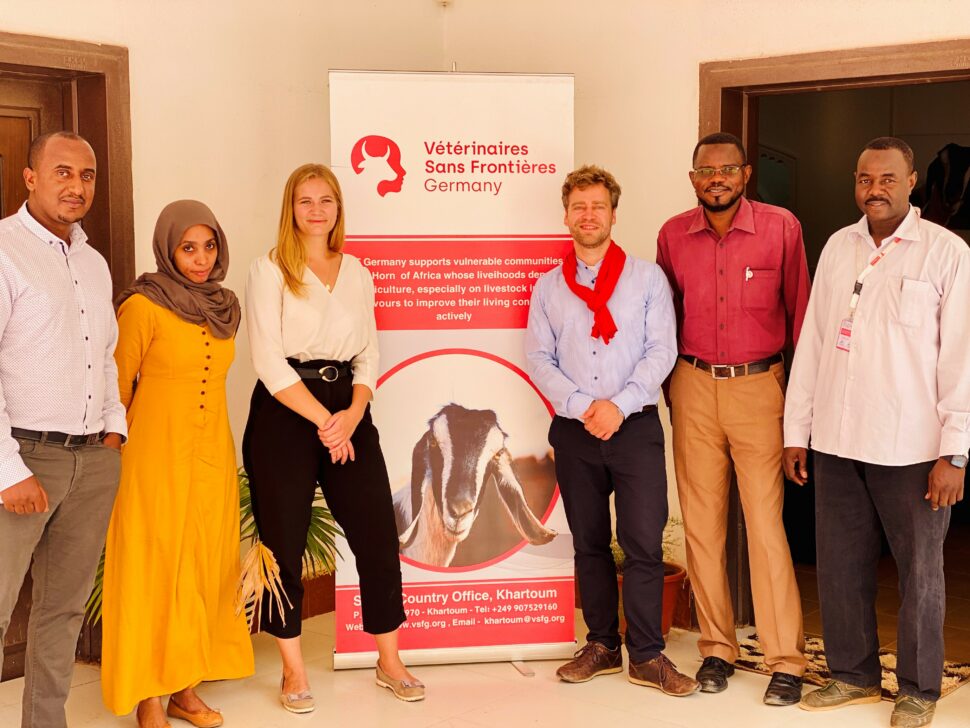 Xenia Stoll, Counsellor for Political Affairs & Culture of the German Embassy in Khartoum and the team of Vétérinaires Sans Frontières Germany (VSFG) met on June 15 at the country office of VSFG in Khartoum Riyadh. The Managing Director of VSFG, Christian Griebenow and Country Director Dr. Esmael Tessema welcomed Ms. Stoll here.
Together with Dr. Eiman Ahmed, the program manager of VSFG in Sudan, they presented the projects and the approach of the association in Sudan comprehensively to Ms. Stoll. A special focus was on the intervention fields of Food Security & Livelihood, WASH (Water, Sanitation & Hygiene), Income Generating Activities and Woman & Child Protection.
In further exchanges, the humanitarian situation in Darfur and Kordofan was discussed. Xenia Stoll emphasized that the German Embassy is monitoring the situation in Darfur and Kordofan with great concern and that she hopes that it will calm down as soon as possible. She said that she was familiar with the approach of VSFG with regard to the pastoralists but was not aware of the scope of this work, including child protection and civil conflict transformation.
Through many years of humanitarian work for people and animals in Sudan, the organisation has gained important access to the areas of operation and has built up a trust with the communities that is particularly important in this field of work. This access is a privilege, but also comes with a high obligation to do everything in the power of the organisation to ensure the food security of the pastoralists in the arid and semi-arid areas, but also to support their own economic security and development.
At the end of the meeting, Christian Griebenow underlined that the slogan of VSFG which is "When animals mean life" has a special meaning in Sudan as it is applied in anticipatory humanitarian aid, i.e. the (humanitarian) preparation for emergency situations such as droughts or floods. In this way, VSFG has already been able to support and save thousands of animal- and human lives in Sudan over the past twelve years.
Finally, Xenia Stoll and the representatives of VSFG agreed to exchange information more regularly in the future. Thank you very much for this visit of the German Embassy to the Sudanese Country Office of Vétérinaires Sans Frontières Germany!